Drag Day 4 May 26th This One Is Not On Koh Samui
DRAGDAY PARTY THE HERITAGE & HELL ON DIRT Starts Satuday at 9am on the 26th May at Thailand-Circuit-Nakornchaisri. Entry is by Donation. This is an annual Biker Event and well worth the ride from Koh Samui.
ทางหลวง 3235 ซอย 1/1, Nakhon Chai Si, Nakhon Pathom, Thailand 73120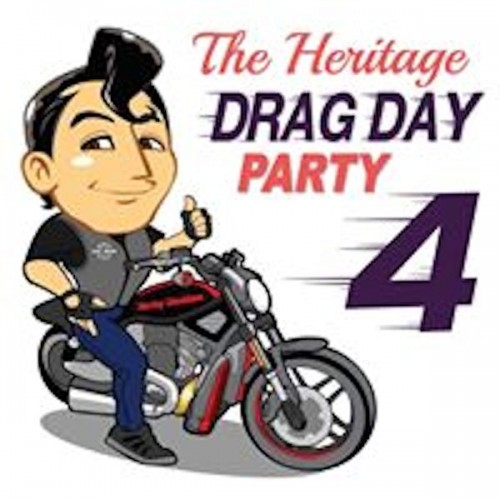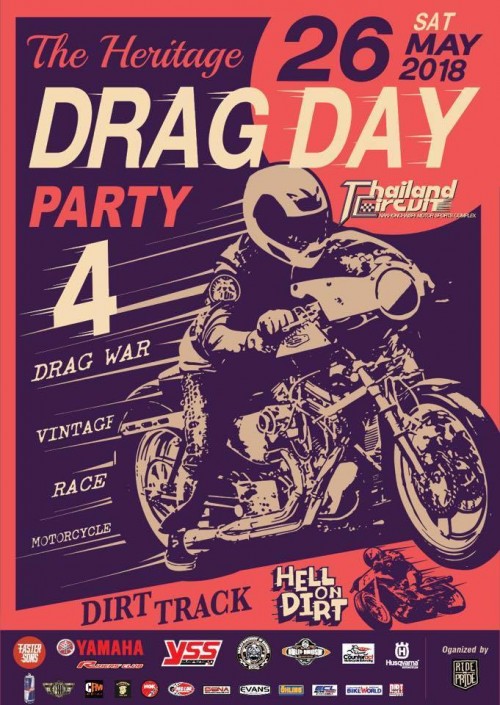 "กลิ่นน้ำมัน เสียงเครื่องยนต์ และทุกทุกอย่างที่แฟนคุณไม่ชอบ"
เรากลับมาอีกครั้ง หลังจากหยุดไป1ปี ครั้งนี้ เราจะพาพวกท่านย้อนเวลากลับไป การแข่งขัน Drag ยุค 70's แต่งตัว แต่งรถ กันให้มันส์ และพลาดไม่ได้กับการแข่งขันทางตรง ระยะ 201m และ นรกทางฝุ่น!!"Hell On Dirt" ที่ไม่มีขีดจำกัดเรื่อง CC. หรือ ยี่ห้อ
และ การเฟ้นหา "สาวที่มีบั้นท้าย สวยงามที่สุด "Miss Dragday Booty Contest 2018
26 พฤษภาคม นี้เรียนเชิญ พี่น้อง ไปปลดปล่อย พลังด้านมืด ฌ.สนามแข่งรถที่มีบรรยากาศ Woodstock ร่มรื่น ที่สุดในสยาม แล้วเจอกัน....ครับ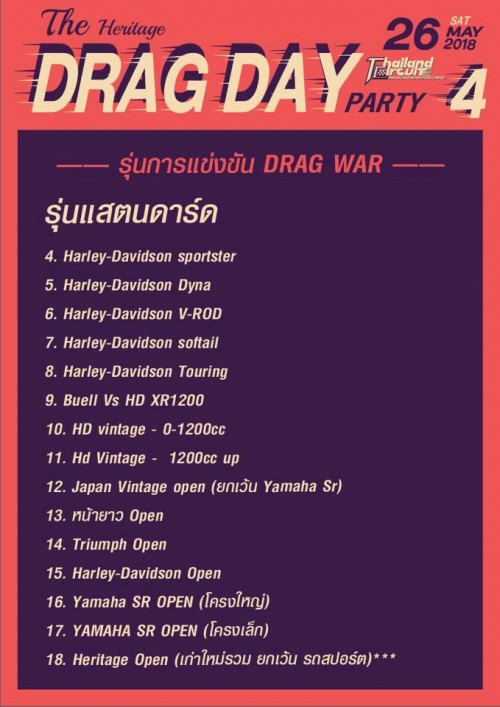 "Oil smell, engine noise" And everything your girlfriend does not like. "
We come back After a one year vacation, we will take you back in time to the 70's Drag Race, get dressed up and miss out on the 201m straight race and hell dust !, "Hell On Dirt". There is no limit to CC or brand.
"The girl with the most beautiful buttocks" Miss Dragday Booty Contest 2018
May 26th invite your brothers to unleash the dark power. ฌ The racecourse with the most atmospheric woodstock in Siam, then meet .... offline.
เมื่อวาน ผม กับ น้าโด่ง ได้ไป รับ Mr. Tak shigematsu ที่สนามบินสุวรรณภูมิ ผมดีใจมากที่ มีนักแข่งระดับโลกให้ความสำคัญ ต่องาน Dragday Party คุยกัน เกี่ยว กับ รถแข่งของเค้าเจ้า "Blue Panther" รถแข่ง TopFuel Harley ใส่ Superchager ที่ความเร็วตอนเข้าเส้น เกือบ 400Km /H แรงดึงเกือบ 4G!!!
และต้องสู้กับ แรงลมที่ความเร็วที่ 400 KM/H แต่ที่เจ๋งอีกอย่าง คือ เค้าเป็นนักแข่งขันคนเดียว ที่ต่อกร กับนักแข่ง ชาวอเมกัน ที่ดินแดนอเมริกา ปีนี้ ท่านให้เกียรติ เดินทางมา งานDragday Party คุยกั...
See More
Yesterday, me and I went to pick you up. Tak Shigematsu at suvarnabhumi airport. I'm very glad to have a world-class racer. Focus on the dragday party talking about his race car. "Blue Panther" race topfuel Harley wearing superchager at speed at the end of almost 400 km / h. Strong pull. Almost 4 G!!!
And to fight the wind at the speed at 400 km / H, but another cool thing is that he's the only racers against the American racers in America. This year, you honor your journey to dragday party. Next year, I want to raise you "Blue Panther" to Thailand. Just bring it to Thai people to see it. Touch a real topfuel car. Hear my voice that I will create a lot of inspiration. A dream when a child. It's starting to be clear. Ask for project. This is successful!!! Next year dragday must be fun. Which company is interested in sponsors, please tell.
Finally, meet mr. tak shigematsu at booth at the dragday party #4. You come with the best product for Harley-Davidson. Let's get some knowledge.
https://youtu.be/vIPuHmqNjs4
See you on Saturday.