Full Moon Party
Koh Phangan Full Moon Party has become a world-famous institution, but its ancestral home remains the crescent cove of Haad Rin Beach on the southernmost tip of Phangan Island.
Powerful sound systems turn the 800-metre beach into possibly the most popular open-air #nightclub in the world once a month, with a lively festival-like atmosphere, great #music and unlimited entertainment.
This one-of-a-kind event is routinely listed on bucket lists as one of the essential experiences in Thailand which absolutely must be seen to be believed.
As many as 30,000 party people gather on the famous strip of sand to party in the glow of the Earth's nearest celestial neighbour, right through the night and into the dawn.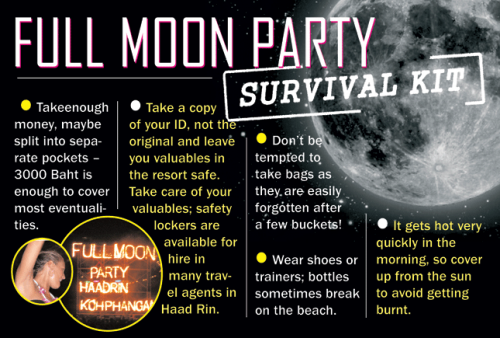 Upcoming Party Dates
March 31st: Saturday 7pm to 7am
April 29th: Sunday 7pm to 7am
May 30th: Wednesday 7pm to 7am
Our advice is don't be tempted by drugs; this island has had a bad reputation for a long time and the open taking of drugs is not tolerated. Thailand has also had a crackdown and the police are very hot on stopping the problem. The days are gone when you could buy your way out for a few dollars and the penalties in Thailand are harsh to say the least - expect a hefty fine and possibly an extended jail term if caught.
How to get to the Full Moon Party.
Ferry
If you are coming to Koh Phangan from the mainland, buses, trains and planes all stop around Suratthani where you will be transferred to either a Suratthani jetty for the "Songserm" Ferry Service (3.5 hours to Koh Phangan) or to Donsak which is a 50 minute bus ride away. If you stay overnight in Suratthani, the hotel will book you a ferry, or alternatively head for "Phangan Tour" as they are the main agent for bus transfers to Koh Phangan. From Donsak there is only one service at the moment.
Raja (2.5 hours) car ferry has six services a day.
From Koh Samui the shortest crossing point is from the Bophut and Mae Nam area where several services run from to Thongsala to Koh Phangan and Koh Tao:
Lomprayah Catamaran (25 mins)
Phangan Cruises (30 mins)
Seatran Discovery (25 mins)
The only service direct to Haad Rin is the Haad Rin Queen (50 mins) which also runs the most frequent service and also has a last boat at 6:30 pm if you fly in late.
Songserm Express (45 mins) also runs to/from the main port of Nathon and the early morning Songserm boat departs Koh Phangan for Koh Samui at 7am every day.
If you are in a hurry or arriving too late for any of the regular ferry services then a speedboat may be a good option from Koh Samui. While coming from Suratthani the Night Boat departs at 10.00 pm which may be able to help out if you don't want to spend the night in a hotel there.
Departing Phangan at 10.00pm, the Night Boat arrives at 04.00 am and is a popular choice for quick VISA trips to Ranong (Burma) as you can return the same day. On arrival at Suratthani you'll find travel agents offering the return minibus service at a cost of around 1,500 Baht per person which will include boat transfer to and from the border.This service should have you back at the pier by around 4 pm at the latest.
If you want some help with arranging your travel plans contact a local travel agent, most will be able to offer a decent service. There is an abundance of travel and tour agents on Koh Samui & Koh Phangan so it should be easy enough to organise onward travel.